Sheedy's Home Page
Sheedy our new puppy at 7 weeks of age. At this age a little terror.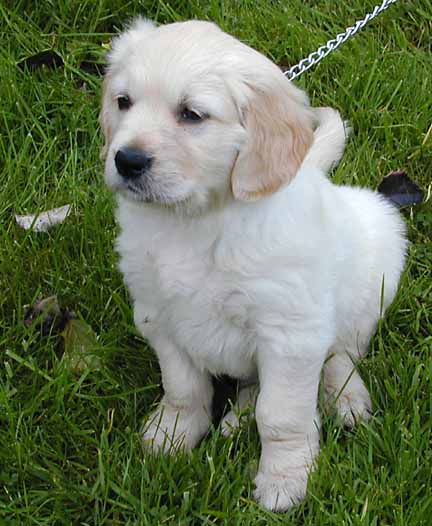 24th Oct 2000
At 9 weeks old Sheedy has changed rapidly from an almost helpless ball of silky fluff to a highly active bundle of energy. Every activity has to involve his teeth be it playfighting or chewing up furniture, carpets,etc.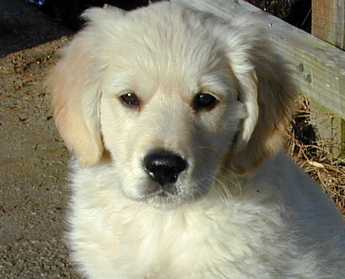 3rd November 2000
From getting stuck on the bottom step of the stairs and whimpering loudly only 3 weeks ago, Sheedy can now jump up onto chairs and can climb up stairways in seconds. He is a very alert dog and watches birds flying overhead quite attentively. He also appears very intelligent and already has learnt very quickly how to sit, stay, fetch, lie down and leave food until told to eat. He is now almost fully house trained, but not quite!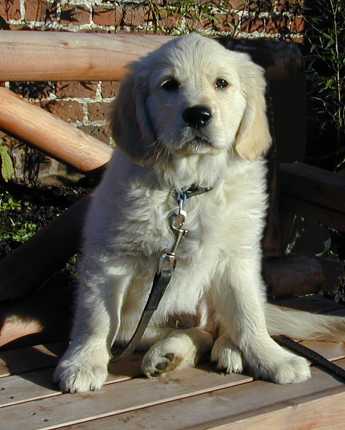 3rd November 2000
At 13 weeks Sheedy still loves to chew anything especially stones. His play biting is starting to become a bit more problematic as he grows larger. Yesterday was his first walk outside of the nursery and he only got as far as the petrol station 100 yards away when he became totally engrossed in a large lorry parked on the roadside and just sat down to watch it and refused to go any further. Here he is on guard duty by our holly wreaths. He has also acquired a taste for xmas tree foliage and is quite adept at ripping up a xmas tree branch into hundreds of pieces. He has an extremely accurate built in food clock and 10 minutes before any of his four mealtimes, he starts yelping and whining. Tomorrow his meals are to be cut down to three times a day and we aren't really very sure how well he will accept this !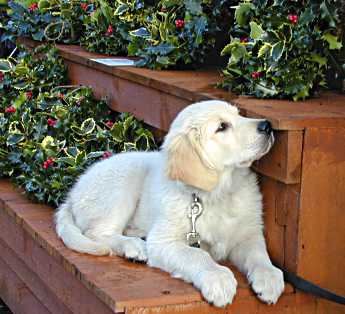 5th December 2000
.
Sheedy looking very unhappy because he just can't understand why he shouldn't be allowed to jump into the flooded river. He already has had a couple of swims in our lily pond. On the first occasion he was only 8 weeks old and slipped in when he was trying to get a drink.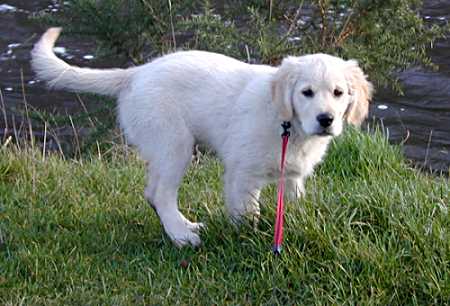 10th December2000
.
A walk on the village green and he is actually coming at a trot when called. There are so many new scents and sights to distract him that he tends to forget all of his previous training. The main idea of these walks as well as giving him exercise are to make him as tired as possible so that he sleeps in the house thereby inflicting less damage to the wallpaper, etc. A couple of days ago he completely chewed through the cable for my cctv camera, fortunately this was low voltage.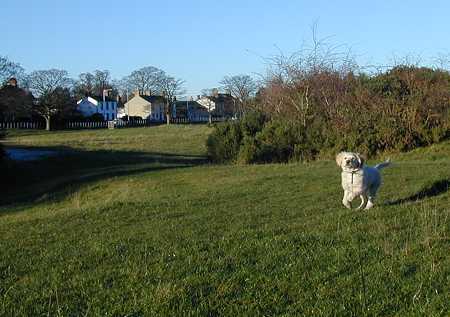 15th December2000
.
Today he made a couple of new friends: a springer spaniel and a large black labrador. He certainly has a lot of confidence with other dogs and pounced playfully upon the larger dog. In the following photo which is near the new White Bridge in Dalston, he is sitting watching the other dogs playing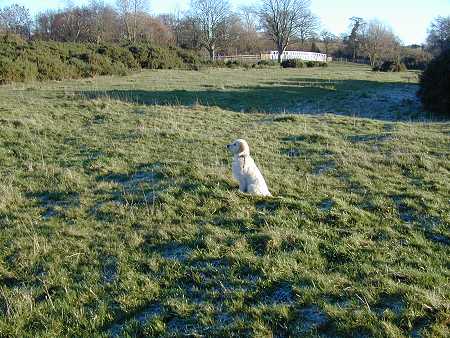 15th December2000
On the newly completed millenium cycle path behind Caldew School.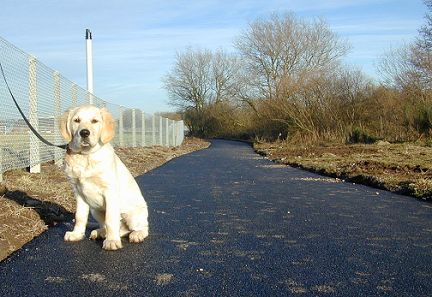 13th Jan 2001
Sheedy with Ricky his biggest fan. She has even got a pin up photo of him on her wall. Today they are going for a walk along the riverside near Rose Bridge.He was so excited at the prospect of going for a walk and really pleased to see her.I wonder will he come back covered in mud from head to toe like last week?!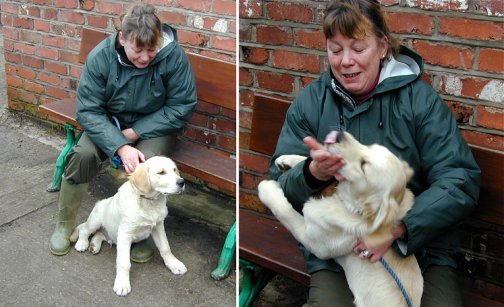 28th Jan 2001
The end of March and Sheedy is now around 30 weeks old. Over the last couple of months he must have quadrupled in size and he is already larger than some fully grown labradors. He has become very powerful and muscular and if he decides he wants to go somewhere he takes a lot of holding back. His latest escapades are eating the TV remote control and today he stole and ate Stephen's lunch of two sausage rolls left in a bag on the kitchen worktop!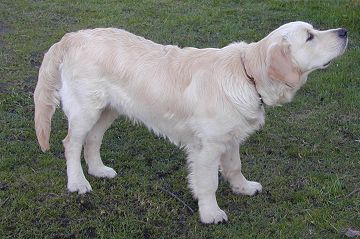 30th March 2001
We have had a few problems with Sheedy. He is very intelligent and can be trained really quickly, but he will only do things like sit, stay, play dead etc. when he wants to and not always when we want him to. We have also found it quite difficult to train him not to do things. He is still jumping up and grabbing hold of our sleeves and won't let go, although he doesn't seem to bother strangers in this manner and is quite friendly towards them. We took him to a local behavioural pet psychologist who said that he has a highly dominant nature and is very intelligent which means that he soon learns how to get his own way. We have been given a schedule to follow which hopefully will lower his position in the dominance hierarchy and make him show us more respect. The dog trainer also suggested some interactive toys to keep him occupied and less likely to give any troublesome behaviour. The following photo shows him playing with one of these toys. It is a ball into which you place small pieces of food which are dispensed through a small hole as the dog is playing. Sheedy found out where the food was coming from and learnt how to make the hole bigger in less than 5 minutes, so that all the food fell out at once!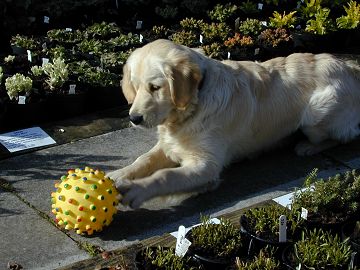 30th March 2001
An action photo of Sheedy digging yet another hole in the lawn. His present record is about one foot deep in around 5 minutes!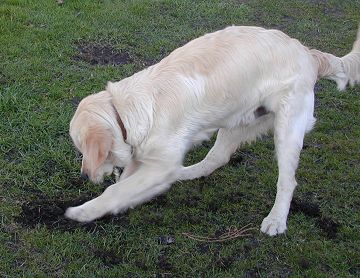 30th March 2001