Wildlife in and around Dalston
Sorry page still under construction
Riverside Wildlife
The riverside at Dalston supports much wildlife which is readily visible if you remain alert to its presence. The richness and diversity of wildlife here is due partly to the unbroken riverside wildlife corridor and also the dense vegetation cover. Dippers, wagtails, duck, kingfishers and herons can almost always be seen, however mammals are much more wary and often nocturnal. Goosanders are quite common in the Winter and are readily identified by the female's chocolate head and neck. The males have a greenish black head and back and a creamy pink body.

Wagtails
Wagtails are common along the river in Summer especially pied wagtails, but it is often possible to see grey wagtails, which are yellow with a darker back, from the BridgeEnd bridge during the summer breeding season. Pied wagtails breed every year in the stacks of wooden boxes at our nursery and can often be seen near our car park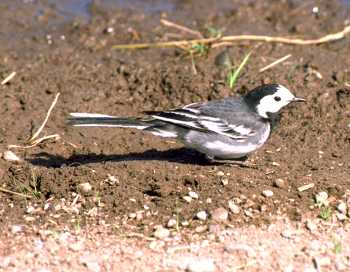 Pied Wagtail
Kingfishers
Kingfishers seem to be quite abundant at present and are quite easily to see once you get to know their high pitched call and look out for the flash of luminescent blue from their rump when they are flying. Very hard winters tend to deplete their numbers, but fortunately winters have been mild for many years.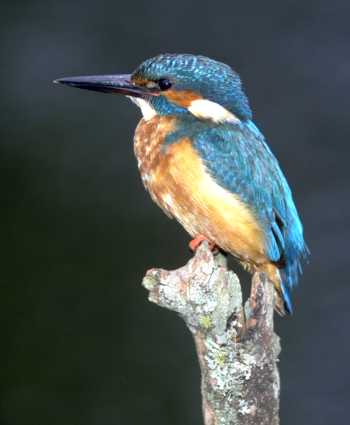 Kingfisher

Herons
Herons are visible every day in the village centre as they fly back and forward from the gravel quarry to the river and their roosts. Perhaps numbers have declined slightly in the recent years after the wood quite close to Dalston where they used to nest was destroyed. Perhaps they are feeding nearer to their present roost.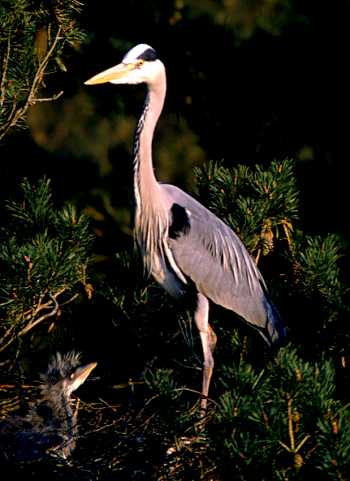 Grey Heron
---
Other Birdlife
Greenfinches
Greenfinches are regular visitors to garden feeding stations in winter.They have a large strong beak which can tear the net of the orange peanut bags. They are really aggressive and can dominate a peanut feeder by chasing away smaller and less powerful birds. Greenfinches are present in large numbers all the year. They nest in garden trees and will visit bird tables in winter. Their favourite winter food is black sunflower seeds which they devour rapidly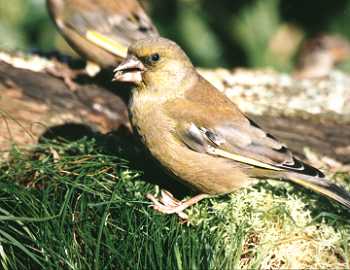 Greenfinch at the nursery

.

Swallows
The year 2000 appeared to have been a good year for swallows on our nursery. We had three pairs of nesting swallows which each reared two or three broods of young. Unfortunately cats killed one brood when they were almost ready to fly. On the nursery we normally have only one pair, with two pairs on rare occasions.It is 10 or more years since we have had three nests. The young always line up along the ridges of the greenhouses to be fed by their parents. It is always pleasant to hear the adults singing from their perches on the telephone wires.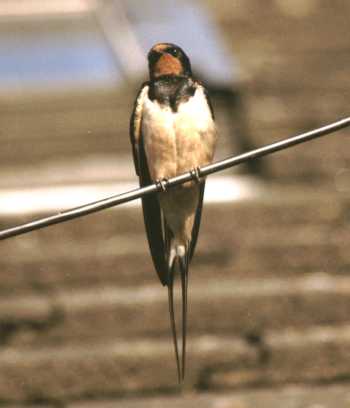 Swallow at the nursery

.
---
Other Wildlife
Butterflies
In September and October 2000 we had many butterflies feeding on the nectar bearing flowers at the nursery, but the fallen fruits under the pear tree attracted the greatest numbers. At times there were as many as 50 Red Admirals, many more than have been seen here for a number of years. In September one of our customers also reported seeing a comma butterfly which looks similar to a small tortoiseshell, but with a more cut edged outline. It is very rare in Cumbria but appears to be extending it's range northwards. Perhaps a further sign of global warming.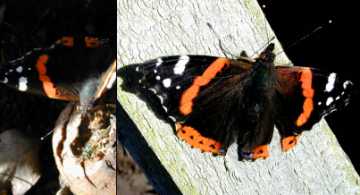 Red Admiral butterflies

.



.



.



.



.



.



.



.